Hey... I wanted to make sure I did regular posts, so I'm making them fun! Plus, there haven't been too many new games, though I do plan to add a few reviews when it's not so late.
But....
The husband taught me to play Heroclix tonight. (As if the geek wasn't getting deep enough, let's add a miniatures game... just kidding, I asked for it.) So... I decided it would be fun to do a clix of the month! Woot! (I'm on a month kick or something. Deal with it.) Note: These clix will be chosen because I like them for some reason or another, not necessarily because they are good or something.
January's Clix of the month: Gleek!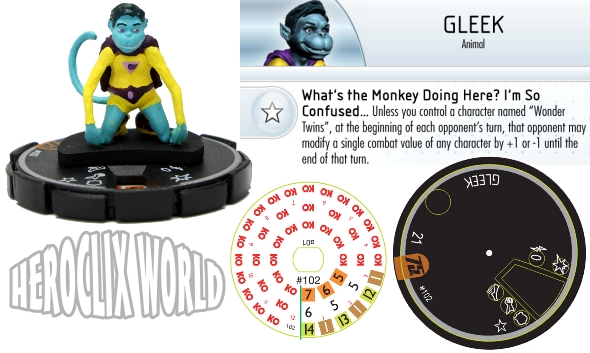 Point Value: 21
Why Gleek? Because he's a blue monkey! And just so darn cute!
What makes Gleek special? He's a monkey for hire! Well sort of... If you don't have the Wonder Twins, then the other guy can use Gleek because Gleek swings that way (on a vine).
What's Gleek's downside: He may have been owned by a clown once and that's just freaky. O.o
DC Heroclix DC 75th Anniversary Gleek LE